Good Morning Readers!
May has arrived bringing all new inspirational book deals for us to enjoy!  Here you will find a plethora of wonderful books at steeply discounted prices.  Great fun for all of us readers.
For those of you who didn't know, my 15 year old son Noah has a huge heart for prayer and prays for hours every day.  He has Aspergers and has found his joy and confidence in seeking the Lord and boldly sharing his faith.  We stopped by this little Christian book store in Roswell and he found a tee shirt he loved (I will share pic on my FB later). 
He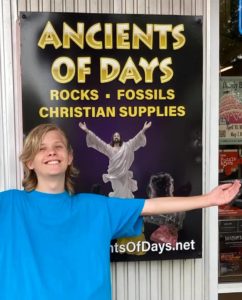 hates having his picture taken but as we passed the store again, he got all excited and asked for us to take several pictures of him in front of the store.  I hope and pray his joy will splash into your heart this day.
Don't forget the Mother's Day Link ~~~> Mother's Day Ideas and Deals
May you be blessed this day.
~Stasia
Non-Fiction book deals for 5/1/2021
Fiction book deals for 5/1/2021
FREE*** book deals for 5/1/2021
Get FREE Christian eBooks and Christian book deals via email when you subscribe to our website updates. ***REMINDER: The ebooks are free or discounted at the time of posting this article and only for USA Amazon. Before purchasing Kindle ebooks, make sure you check the price. The author, publisher or distributor may change the price at anytime and without notice. If you do buy an ebook and you do not like it, Amazon allows you to return the book in 7 days for a refund. Affiliate Disclosure: LifeVerse Books is a participant in the Amazon Services LLC Associates Program, an affiliate advertising program designed to provide a means for sites to earn advertising fees by advertising and linking to amazon.com